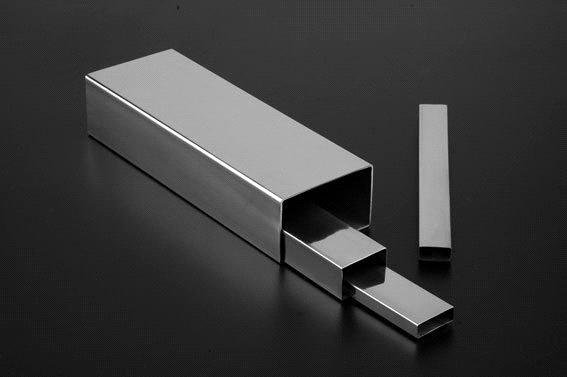 Square Steel Pipes and tubes are used in different industrial applications. These are used for accomplishing different purposes. The common areas, where these rectangular pipes and tubes are used are: supermarket racks, container fabrication, auto fabrication, motor cycles, doors and windows, industrial plant structure, bicycles, furniture etc. There are several guidelines for defining the rectangular pipes and tubes. These guidelines are length, width, height, welding gap, radius, diameter etc. According to the nature of the requirements, the size of the rectangular steel pipes and tubes can be altered. The thinner or the slimmer tubes are used for developing structures and frames. The seamless Square pipes can resist more pressure than the welded seam pipes.
Our Stainless Steel Tubes are manufactured and tested to international Standards, and specifications as per ASTM. Our Square Stainless Steel Tubes have very durable and sturdy finish, widely applicable for all types of fabrication projects that are exposed to the elements – chemical, acidic, fresh water, and salt water environments. We are one of the largest suppliers, manufacturer and exporter of Stainless Steel tubes in India.
At Ahmed Group, we aim to meet the needs of clients in every industry. To that end, we offer square steel tubing in structural and mechanical grades. Our broad selection includes tubes in sizes from 3/8" x 3/8" up to 20" x 20".
Our organization specializes in manufacturing and supplying a superior range of ms square pipes. These are manufactured using best grade stainless steel, which are procured from trusted vendors in the market. Our range is extensively used in various industries such as oil refineries, petrochemical plants, sugar mills, chemical plants and fertilizers plants.